Who We Are
---
Blue Water Developmental Housing, Inc. is a private, not for profit organization that provides a variety of quality housing and support services through residential and community based programs for people with special needs and those involved in their lives.
Our Specialized Adult Foster Care Homes are licensed for up to six beds that are regulated by the Michigan Department of Licensing and Regulatory Affairs (LARA), Bureau of Community and Health Systems.
BWDH offers support services for individuals with disabilities who reside independently or with their families in the community.
All employees must successfully complete the direct care training program and are also required to have 25 hours of additional training per year.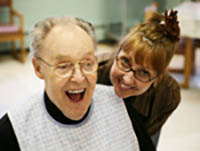 Our Mission & Vision
---
Blue Water Developmental Housing, Inc. has been providing quality care to our consumers since being incorporated as a private, not–for–profit organization in 1976. With the addition of a community support program in 1983, BWDH is now able to provide a full range of services for people with disabilities.
OUR MISSION: "To provide housing and support services focusing on the desires and needs of the person served, support individual dignity, and promote community inclusion."
OUR VISION: "BWDH will be the provider of choice for housing and support services known for a culture of continuous quality improvement, innovative services and programs, a highly trained and competent workforce, and meaningful community engagement."
Our Core Values
---
The development and delivery of services at BWDH is organized around five Core Values to help establish and maintain the highest standard of professionalism and services to consumers. These Core Values include:
1. Respect for Individuals
BWDH cannot succeed without people. It is people who give this organization its meaning and its people who will make it work. BWDH believes in the idea that treating people well – with dignity, respect and with expectations of growth and development – is fundamental to the achievement of a satisfying work experience and essential to insuring consumers are treated with respect.
2. The Importance of Innovation
BWDH believes that it can demonstrate new, creative and innovative ways of supporting, serving and assisting people. Innovation, creativity and inherent risks involved in doing things differently, but responsibly, are the hallmark values of BWDH.
3. The Importance of Teamwork
Despite the requirements of running an organization with various levels and lines of authority, those connected to BWDH believe that everyone affiliated with the organization can offer perspective, insight and input into improving what we do, how we serve and support people and the quality of our efforts. To that end, important and creative ideas may originate at any level within the organization.
4. Continuous Improvement
The aspiration of excellence is also an important value. Excellence is grounded in the quality of our efforts to serve, support, encourage and recognize one another as important contributors to the overall success of BWDH. Improvement requires continual work in monitoring and, as necessary, modifying our policies, procedures and practices.
5. Community Commitment
BWDH sees itself as a valued and integral part of the communities it serves. BWDH seeks meaningful ways to provide human services in response to under met or unmet community needs. BWDH believes that accountability to and responsibility for the local community is essential.